TOUR SUMMARY
Tour period : Half Day Tour
Price per pax from ¥9,000
You can enjoy beautiful sunset view from ocean view natural hot spring open-air bath!
The natural hot spring that springs from 1,000 m underground in Senaga Island has plenty hot water with amount of 500 liters per minute, and its ingredients have the effect of warming the body from the core, and it is also called "Kodakara Hot Spring".

※ We also have clothes to be used inside facility (up and bottom) for 200 yen.
※ Please enjoy various saunas which further enhance bathing effect.
※ Amenities: shampoo, rinse, bodysoap , hairbrush, hair dryer, men and women cosmetics [(male) tonic, aftershave lotion (female) skin lotion, milky lotion

After taking bath, you will enjoy delicious steak dinner in Sam's restaurant, the most beloved and the most historical restaurant in Okinawa.
There are lots of signs on celebrities in the store that style in the image of the rooms of the sailing ship.
Sam's restaurant is located in Kokusai Dori which is a famous shopping street in Naha.
You can also enjoy the chef's performance in cooking acrobatically.
TRAVEL ITINERARY
DAY 1 : Okinawa Onsen & Dinner -> Hotel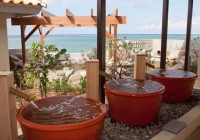 Okinawa Onsen & Dinner
Pick up time:15:00 ~ 16:00
Bathing time:16:00 ~ 18:00
Sam's Steak Dinner:18:30 ~
※ Free transfer for guests around Naha Area
※ No transfer back to hotel
PRICING INFORMATION
Adult ¥9,000
Children(Primary School)¥8,000

Price Includes:
1 Hot Spring Bath
2 Bath Towel and Face towel and other amenities
3 Steak Dinner (Full Course Dinner) -> Top quality Tendeloin Steak Deluxe Cut
4 Free delivery for guests around Naha Area

Tour starts from minimum 2 people
PAYMENT
10% of upfront payment from total transaction is needed to complete booking.
The remaining can be paid using cash to your guide