DESCRIPTION
Nikko Edomura (Edo Wonderland) is a history theme park located in Kinugawaonsen Area near Nikko. Nikko Edomura recreates Japanese town life during the Edo period (1603 ~ 1868). Nikko Edomura is populated by townspeople in Edo period costumes and also decorated with Edo period architectures.

Guests will feel like riding a time machine to the old time of Japan. Here guests will be able to see ninja, samurai, geisha, blacksmith and so on. There are also various ninja battle shows, samurai shows and geisha shows. Not only shows, guests will also able to experience throwing shuriken, fighting with ninja, archery, ninja maze, dressup as ninja / samurai / geisha. Lastly, you can also experience the ninja exercise house where you will feel dizzy walking inside the house. It is difficult to walk straight inside the house.

Below is the full images of things to do in Nikko Edomura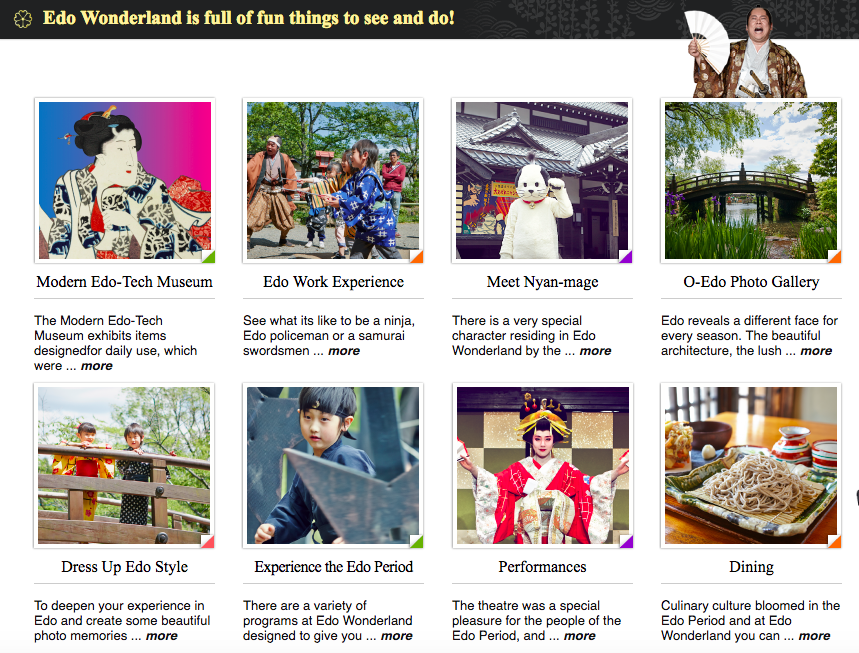 Nikko Edomura is really recommended to those who like Japanese cultures.
Access
By Tobu bus between Kinugawa Onsen Station to Nikko Edomura: approximate 20 minutes, ¥410 one way.

By Car
If you want to travel Nikko Edomura with less hassle, Easy Travel can provide comfortable car hire with afforable price.
Hours & Fees
Operational Hours:
Summer Season (20 March ~ 30 November): 09:00 ~ 17:00
Winter Season (1 December ~ 19 March): 09:30 ~ 16:00

General Admission
One Day Pass
Adult ¥4,700
Child ¥2,400

Afternoon Pass (from 14:00, or 13:00 in winter season)
Adult ¥4,100
Child ¥2,100

Group Admission (groups of more than 8 people)
One Day Pass
Adult ¥4,000
Child ¥2,000

Afternoon Pass (from 14:00, or 13:00 in winter season)
Adult ¥3,500
Child ¥1,900
Travel Plan Builder
Confused on building travel plan? Use Easy Travel Automatic Travel Plan Builder
Make Travel Plan